DCA Shipping Information
Can you ship medications to my state?
Licensed in over 31 States
DCA Pharmacy is licensed to deliver medications in many states across the country. Refer to the map or list below to find a current list of states where we can provide delivery of your prescription.
Alabama
Arizona
Arkansas
Colorado
Florida
Georgia
Illinois
Indiana
Iowa

Kansas
Kentucky
Louisiana
Maryland
Massachusetts
Michigan
Minnesota
Mississippi
Missouri

Nebraska
Nevada
New Jersey
New York
Ohio
Oklahoma
Pennsylvania

Tennessee
Texas
Virginia
West Virginia
Wisconsin
Wyoming
**Multiple delivery options available. Please contact Customer Care to determine which is best for you.
CONTACT US
615-832-7232 / 615-331-6673 FAX
• Hours Mon-Fri 8:00-5:00 CST
Chart of FEDEX Shipping Time Zones from Nashville, TN
This map illustrates service schedules in business days as of April, 2014 for FedEx Ground shipments.
Please Note: Packages picked up from a residence may have one additional transit day. For faster returns please drop off at a staffed FedEx location.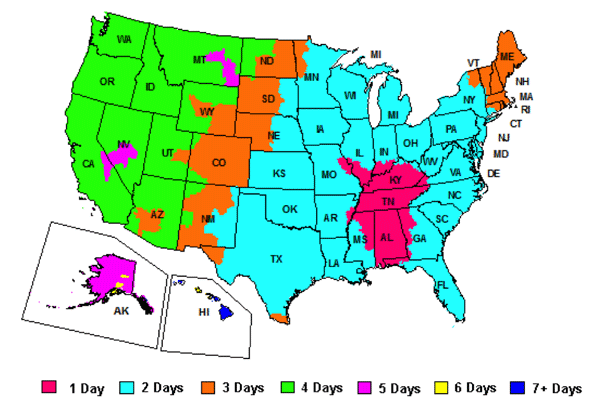 COMPOUNDING PRODUCTS
CUSTOMIZATIONS
CONTACT INFO
PHONE: 615-832-7232
FAX: 615-331-6673
HOURS: Mon-Fri 8:00-5:00 CST